About Case Maestro - iPhone App for Strategy Consulting Interview Preparation

Case Maestro contains 256 questions to prepare you for management consulting caseinterviews. If you want to optimize your chances of landing your dream strategy consulting job or internship, Case Maestro was designed for you. The package is designed to be a concise module to hone the skills necessary to perform well in case format interviews. Each answer in our module is paired with a Key Takeaway to bridge the gap between conceptual knowledge and practical application. Click here to view Case Maestro at the Apple iTunes Store
Authors
Case Maestro's primary editor and writer was Ted Chan, who holds a MBA from the MIT Sloan School of Management, and has 9 years of strategy consulting experience. Ted is also an experienced writer and editor with over 50 credits, including ESPN.com.
The Fast Math section was created by Dr. Dana Sparkman, a PhD in Education who is an experienced math teacher.
Screenshots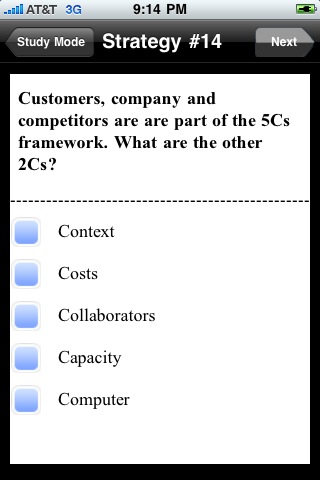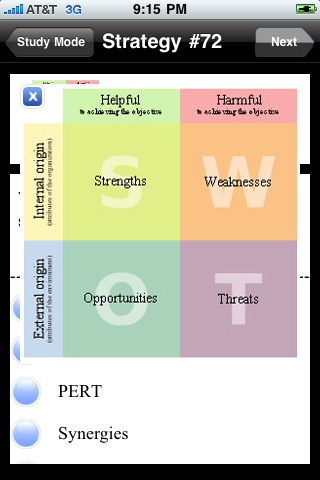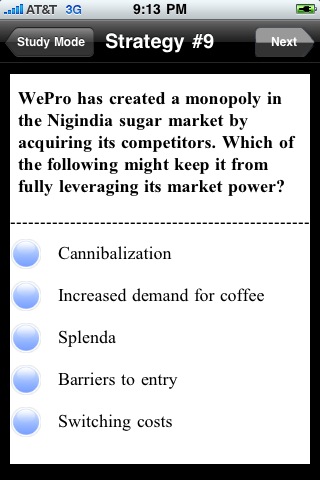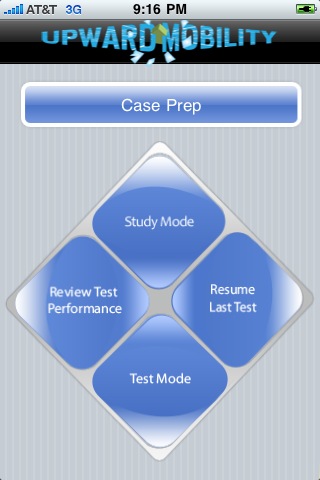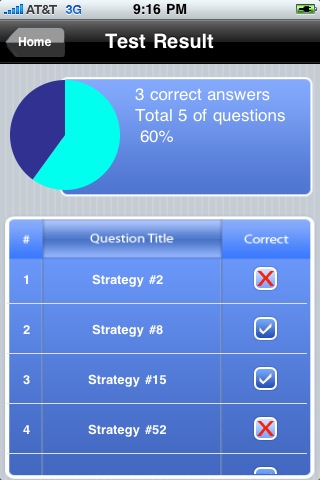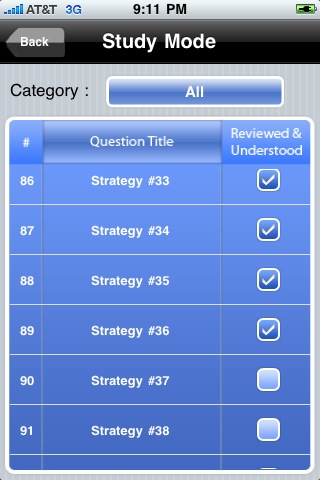 Question Breakdown
72 strategy questions – Covers a wide range of strategy consulting vocabulary and concepts ranging from strategic frameworks to economics.
15 estimating/facts to know – Practice your estimating skills and learn a few key numbers that will help you in market sizing questions.
42 fast math – A systematic quick math module to help you perform case calculations faster. These 42 questions cover short cuts for decimals, multiplication, division, percentages and other key mathematical concepts for business. These questions were written by Dr. Dana Sparkman, a PhD in Education who is an experienced math teacher.
9 bonus questions – These were oddballs and tips we thought would help you succeed as we were writing this module. They didn't fit in any of the above categories, but we wanted to include them anyhow.
118 accounting questions - For those who want a review on key accounting principles, we have included an additional section in version 2.0.
Modes
Flow-through: Go through our premium curriculum question by question. You can resume where you left off using the Review Screen.
Review mode: Keeps track of questions you reviewed and understood. This allows you to track your progress and circle back to specific questions. You can also jump to specific topics to focus on areas that you want to work on.
Test Mode: Set your own time, categories and number of questions for a simulated exam.
Availability and Pricing
Case Maestro is available in all iTunes global markets for iPhones and the iPod Touch.
Price: $9.99 - Buy Case Maestro for at the Apple iTunes Store
Note that project management training is often considered a reimbursable or tax-deductible expense. Consult with your corporate training division and tax rules for your region.
iPhone OS Versions Supported
Case Maestro will work on all versions of iPhone OS, as well as the iPod Touch and is available from the Apple iTunes Store.

About Upward Mobility
Upward Mobility creates high end professional educational content for management development and test preparation, and makes it available through innovative mobile and web platforms. Our goal is to keep learners engaged with a mix of wit, humor and actionable takeaways.

We are a double bottom line company that is committed to education in the developing world. Some of the profits will be used to deploy education via mobile phone in emerging countries to improve their total factor productivity growth.
Additional Keywords:
MBA, undergrad, strategy, case interviews, case prep, leadership, division, fractions, percentages, business math, ace, synergies, economics, Five Forces, 4Ps, 5Cs, transfer pricing, case consulting
McKinsey, Bain, BCG, Monitor, Booz, Mercer, LEK, Deloitte, Oliver Wyman, CSMG, Gartner, BearingPoint, Watson Wyatt, Roland Berger, ZS Associates, PRTM, Aon, Analysis Group, AT Kearney, PWC